Dr. Blanchet's work with World Pediatric Project was recently featured in the Richmond Times Dispatch.
See original full article here.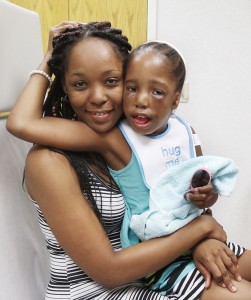 Juliana Doyle bounced around the hospital room like it was her playground, touching and picking up pieces of equipment as if they were her toys.
Juliana has gotten used to hospitals. She is 7 years old and already has undergone six surgeries.
Juliana has Treacher Collins syndrome, a condition that affects the development of bones and tissues of the face. Many times, those with the syndrome have underdeveloped cheekbones and jawbones, and typically have difficulties with vision and hearing.
Only one in 50,000 people in the world have the condition.
Through the World Pediatric Project ? a Richmond-based medical charity helping children in developing countries ? Juliana and her mom, Eudene Doyle, traveled from the Caribbean island of Saint Vincent to the United States for the first time.
Through the program, Juliana is one of six children to come to Richmond this month from abroad for critical surgeries. In about two months, she and her mother will return to Saint Vincent.
Juliana is the first Treacher Collins case the program has brought to Richmond. She had surgery last week at the Virginia Eye Institute in Henrico County, and on Friday, she had a check-up with her doctor, Nadia Blanchet, a plastic surgeon. During hersurgery, Blanchet worked with surgeons from Virginia Ear, Nose and Throat Associates and the Virginia Eye Institute to fill out Juliana ?s face, reconstruct her ear and repair eyelid deformities.
Blanchet has worked as a volunteer surgeon for the WPP since it was founded in 2001, and has been Juliana ?s doctor since she was 2. Even though Blanchet isn ?t a craniofacial surgeon, she said she performs surgeries on Juliana that are reasonable and safe for her to do.
?Every year we do something to make her even prettier, ? Blanchet said while examining Juliana. Blanchet has previously performed all of Juliana ?s surgeries in Saint Vincent, and along the way, has become close with her family.
?It ?s been a journey for us, and we ?re so thankful, ? Doyle said with Juliana on her lap. ?When we found out about WPP it gave us hope, especially since it was in America. ?
When Juliana ?s condition was first diagnosed, Doyle said she worried she would be unable to connect with her daughter.
?It was hard with people looking at her and asking what was wrong, ? Doyle said, with tears rolling down her face. ?Now when I see her, I see my child. ?
Seeing that her mother was crying, Juliana jumped to hug Doyle and found paper towels in the hospital room for Doyle to dry her eyes.
Doyle said her community in Saint Vincent has been very supportive of Juliana and her journey. The WPP recently opened a medical facility in Saint Vincent. One of the program ?s goals is to improve medical access in developing countries, and not just to send medical missions to countries temporarily, said Patrick Nichols, the patient care coordinator for WPP. He added that in most cases, surgeries are performed in a patient ?s home country, but that in emergency cases or rare cases like Juliana ?s, a patient may travel for better resources.
Juliana ?s toughest operation was three years ago, when she had intensive surgery on her eyes, Doyle said. Blanchet said Juliana ?s vision is good now, but because her hearing is poor, she understands people through lip reading.
?She is a very, very smart little girl, ? Blanchet said.
Despite her condition, Juliana is very independent and energetic, Doyle said. During Friday ?s appointment, Juliana walked in and out of the hospital room, each time bringing in different toys, waving them at Nichols.
?She ?s not my biggest fan right now, since I ?m the one giving her eye drops, ? Nichols laughed. Her mother said Juliana is feisty for her age.
Depending on the speed of Juliana ?s recovery, she and Doyle could be in Richmond for two months. Next week, Juliana will have a test to determine the severity of her hearing loss. The doctors hope Juliana can receive hearing aids, which Doyle said would be life-changing for her daughter.
After their time in Richmond is complete, Doyle hopes to take Juliana to the Grenadines island chain in the Caribbean for summer vacation, but said only ?if God is willing, ? a phrase commonly used in Saint Vincent when people make plans.
At the end of the appointment, Blanchet and Doyle talked about the next step for Juliana and the doctor ?s plans to visit Saint Vincent. They laughed as Juliana played and took photos with their cellphones.
?I ?ll see you next year, ? Blanchet said while holding Juliana and Doyle ?s hands, ?God willing. ?